Keys
Specialty Keys
Want to add pizazz and replace your dull-looking keys? We have many designs and patterns of Cool Keys™ and Personali-keys™ available in our store.
Capistrano Lock & Safe has a wide variety of keys in the shop. In addition to residential, commercial, industrial, door, cabinet and auxillary keys, we also carry keys which are hard-to-find. We also carry many accessories such as lockboxes, key cabinets, key rings, colored identifiers, hidden key compartments, and many more. Want to safely store a key outside your home? Call for details.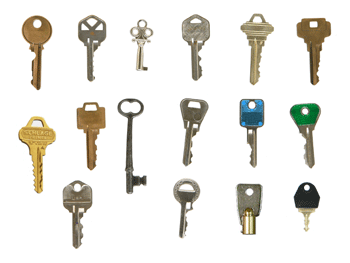 High-Security Keys — There are times and situations in which a standard key and lock just isn't enough. With our high security key systems like Schlage-Primus, Everest-Primus, and Medico, extra features such as "Dual-Locking" and "Side-Bit Milling" can help make lock-picking and basic duplication extremely difficult.
Antique & Furniture Keys — We carry a wide variety of antique and reproduction furniture keys.
Safety Deposit Box — Losing the keys to your bank's safety deposit box is costly and a hassle. You must wait for the bank to arrange the required personnel's presence and a locksmith to open your safety deposit box. Before you lose your only safety deposit box key, avoid the cost and inconvenience by making an extra key today.
Luggage — Lost the keys to your suitcase? We have a variety of luggage keys on hand to fit most name-brand luggage. Bring your suitcase to our shop before you go on that unexpected trip. We also carry TSA luggage padlocks for securing your luggage.
Automobile — With a rapidly-changing system for automobiles today, call our store for key duplication details.